---
Welcome Aboard to the RMS Titanic! We, as the crew of the largest luxury liner ever created, do hope that you will enjoy your voyage with us as we cross the mighty Atlantic to our final destination. Please let us know if there is anything you need, crave, or desire that would make your trip a most pleasurable one. We have well over 300 crew members that are ready and willing to go above and beyond the call of duty so please feel free to make yourselves at home. The RMS Titanic will be departing in fifteen minutes. By then all second class passengers, third class passengers, and steering need to be in their assigned areas. Unless you are a first class ticket holder, you will not be permitted into the first class restricted areas. Ahh I believe I hear the departing call now. Enjoy your stay!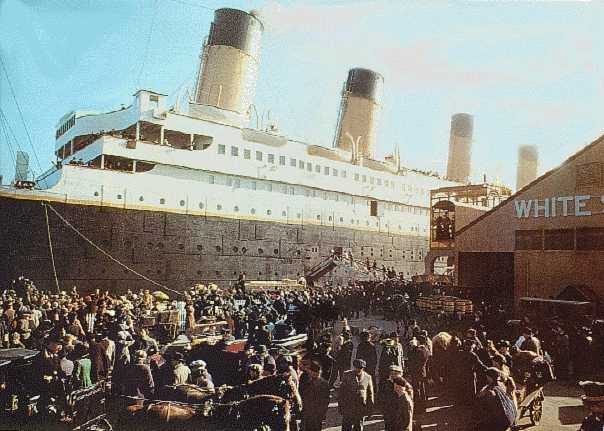 ---
Now that we've left port I'd like to be the first to offer our prized patrons a guided tour of our "Ship of Dreams." Here is our Smoking Room where you fine young gentlemen can sit down for a chat, smoke a cigar, and perhaps talk of the business of the day while the ladies do the ssame amongst themselves in the tea room.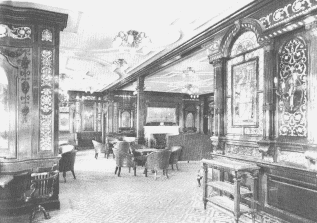 ---
And here is the grand staircase that adorns our entrance to the Dining Room. We think it's one of the most beautiful in the world especially fora cruise ship like ourselves.
---
And now we shall head out to the deck where you will be able to view the finest sunsets you have ever set eyes on. Just beware that the other non-first class passengers will be around also. Ahh here's a fine hard working young lad now! Young man, what's your name? "Dawson, Jack Dawson". Nice to meet you Mr Dawson.
---
Well I must be off now. I want you all to have a wonderful time on our maiden voyage of the Titanic, and I hope to see you all along the way...perhaps even in the second, third, or fourth journey. Farewell for now and thank you for coming!
---
Now as we all know the RMS Titanic didn't make it to its second, third, fourth, or fifth voyage. It truly was the"Ship of Dreams" as many did call it. Now I would like to take you back to Titanic and show to you what the story and the movie have shown me. It isn't about being high in society and all so powerful because inside way down deep, we are all the same. We all are human beings with the ability to love, the ability to hate, and we are all born with the instinct to survive, so I ask you to come aboard as we both explore Titanic together.
This site is dedicated in honor of all those who went down on the RMS Titanic in the early hours of the morning on April 13, 1912. May they rest in peace.
---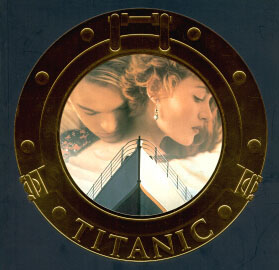 ---
---

---